―― I'm the DD Director from the VOLKS Doll Design Department.
Thank you very much for your time. First, let us hear your honest opinions about these final samples.
S : I'm surprised to see the quality of the final samples!
I understand that it definitely takes time to develop these things.
It has been a long time since we first announced the project. We have heard that some people were wondering if it had suffered a setback. However, when they see these, they'll understand why it took so long. We hope that we'll deliver them to our customers as soon as possible.
Y : Just my personal thoughts, but… I wonder what'll happen to VOLKS if they don't sell well…haha
S : So, you'll ride a bicycle vending cart and sell them one by one, won' you?
Y : A bicycle vending cart? I wonder how many carts I'll need…haha
―― We pray that you won't need to, haha
Y : "Doll" has been a motif for "NieR:Automata" from the very beginning. We considered using the word "Doll" for the game title. So, when I see the characters actually becoming dolls, it makes me feel emotional.

Unlike making ordinary figures, a doll takes more time and effort. Just sculpting and casting the appearance of the character won't cut it. An adjustment to the details is necessary for recreating the character as a doll. Matsudaira-san and the VOLKS director carried out as many discussions as they could to succeed in bringing them to completion.
―― How about you, Taura-san?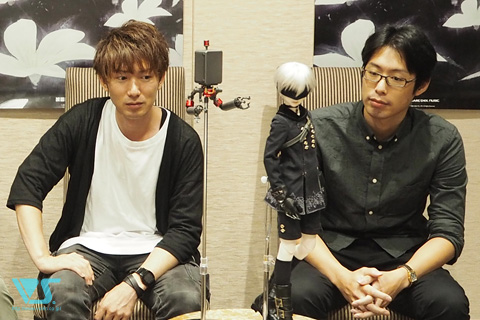 T : The dolls are definitely well made; they come with these Pods, right? Pods in this size are awesome!
S : They look amazing.
Y : Now, I guess they're the biggest Pods ever?
T : Yes, they are and they're good quality. The dolls are nice, but I personally like the Pods the most, haha
Y : Matsudaira-san mentioned before that you could see the manufacturer's passion towards the subject by seeing the quality of the accessories, such as these Pods. The same thing can be said about character figures and cosplayers. Everyone puts a huge amount of effort into the main parts but not for the accessories.
M : It really is.
Y : These high-quality Pods prove the amazing quality of the entire products.
T : That must mean that everyone who looks at the Pods can see the quality of the dolls without even seeing them, haha
S : The features of the Pods reflect the overall quality as well.
Y : I wish VOLKS could sell the Pod separately, haha
S : Speaking of quality – 9S's bag is also super awesome right?
Y : It's definitely well made.
T : I'm very impressed with the details. The intense attention to detail enhances the overall quality. It was a good choice to leave this project to VOLKS.
――Thank you very much for your compliments! What did you think, Matsudaira-san?
M : At first, I was surprised by their size. It almost feels like they're "alive", which is something I've never felt from a character figure before. I feel like there's a lot of hidden potential for them. If I welcome and display them at home, they might change my life because of their strong presence…Haha.
Y : So, you're saying that they'll take up too much space? Haha
M : No no no! I didn't mean it like that. Haha
I meant that it'll become a bottom-less pit of addiction.
S : It can be said that many men do not see dolls as their hobbies. I will be glad if NieR becomes a gateway for people who may have never considered dolls to become one of their hobbies.
Y : Compared to other NieR related products, we received the largest numbers of requests for these DD. We also ended up having a large amount of discussions. The combined efforts by both VOLKS and PlatinumGames Inc. have definitely produced a high-quality result.
―― Throughout development, we frequently asked 2B and 9S' modeler, Matsudaira-san, to check our samples. Which parts were you most insistent on? What aspects do you want the customers to look at?
M : Well, I think these two dolls stand out in the VOLKS Dollfie Dream® series.
We made difficult requests regarding their face sculpts. Based on the original artwork, we tried to make their sculpts and makeup more realistic than any models released before.
I want the customers to look at those two things. Well, I guess the eyes will be hidden though, haha
I hope people will enjoy them when they take off their Camouflage Googles.
Y : Just sitting over there is my colleague Sekiya-san(*), who was also one of the members who checked the samples. He has a strong commitment because he likes dolls a lot. Also, the voice actress Yuuki Aoi-san(*) likes dolls. These two… made so many requests during the meetings, haha

* Sekiya-san: Makoto Sekiya, Producer at ILCA, INC.
* Yuuki Aoi-san: voice actress known for being a big fan of dolls. She plays Pascal in "NieR:Automata".
S : I guess the pressure from Aoi-chan ultimately decided everything, haha
Y : For other collaboration items, I usually make most of requests for redoing the samples. But for the DDs, I was busy trying to reduce and narrow down everyone's requests…. It was a really rare case. There are many people who like VOLKS Dollfie® very much… I was kind of scared that they were particular about the smallest details because of their love for Dollfie®. I wonder if VOLKS is doing these same steps every time when they produce collaboration DD model. It seems tough.
―― Yes, we've never had it easy, haha
But as a result, we believe their love has made the dolls such high quality.
―― By the way, after 2B and 9S released, are there any other characters that you would want us to release as DD?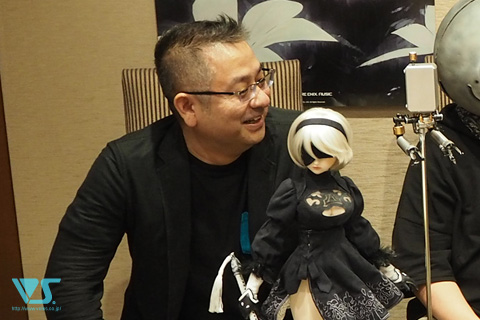 S : I must say "A2" after all, but she's not really wearing an outfit, right? I'm thinking that she might be too sexy…. What do you think?
Y : Nah, too sexy sounds good.
It might be against the times, but I like it. Since you asked me freely, is it possible for VOLKS to release characters that do not have a human shape… like "Pascal"? I guess everyone will be surprised and say, "Is this really DD?", haha
S : I think it will be more in the Pod's category, rather than a doll.
Y : But if possible, they can arrange the character proportions close to DD…
―― How about giving Pascal the body of a human-girl? haha
S : As a girl? haha
―― If that happens, we'll have to ask for Yuuki Aoi-san's opinions.
Y : Sounds good. Well, I'll be happy if A2 can be released as DD next.
S : How about releasing Eve before A2?
Y : Eve…he's almost naked, haha
VOLKS won't release A2 as DD unless DD 2B and 9S sell well. I hope that there will be many pre-orders for both.
―― Speaking of which, do you often purchase three-dimensional objects like character figures?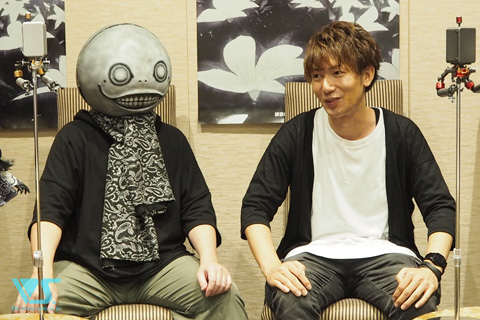 T : I buy figures, but I have never had a doll before.
Y : To be honest, for those who have never purchased dolls, the price will be the biggest hurdle.
M : I agree with you.
T : From the point of view of a developer, I worry that how many people will place pre-orders considering their prices. I'm sure that the DD are worth the price.
Y : The dolls are not in the same category as the other previously released NieR items. The dolls are something special.
S : Yeah, I think so too. But, remember we released "Salt for 10,000 JPY" (*) before, haha
In a sense, that was special too.

* "NieR: Salt (Non-edible) & Music Box", 9,800 JPY (with tax)
Music Box comes with a packet of "salt" which appears in NieR series.
Y : That was an extreme case. However, I'm incredibly satisfied to have such high-quality products released for the NieR series. They are not inexpensive, but we are sure they are worth it. It doesn't feel like it's real, and a little more like news in a different country!
―― Thank you very much. We displayed both DD 2B and 9S at the concert hall; we got many compliments from NieR fans about them.
T : I was impressed that a line for just taking pictures of the displayed DD was that long!
Y : All things considered, we can totally get three doll pre-orders, right?
M : Only three? haha
―― We at VOLKS, believe that the dolls will be able to meet the expectations of NieR fans worldwide.
S : I know that you cannot disclose numbers, but how many pre-orders will you need to receive to see a profit?
The YOKO Corporation will be sure to buy up all the required quantities.
Y : There isn't such thing. Haha
―― Before we close, do you have any messages for all the NieR and Dollfie® fans?
S : I still can't believe that characters from "NieR:Automata" will be debuted as dolls… There may be a better way of saying this, but I think VOLKS' is making a big mistake, haha
However, I sincerely appreciate VOLKS's ultimate decision. I bet Yuuki Aoi-chan is truly happy about that this project is really happening. I'll be glad if all the NieR fans promise to place three of pre-orders per person, haha. This project was completed thanks to the combined efforts of a number of people and support from all the fans. Thank you very much.
Y : I guess the doll hobby is not cheap and is considered for financially stable adults. However, I hope that longtime NieR fans can enjoy the fact that its characters are becoming Dollfie®. I think that you will look forward to seeing them in the future online, through pictures, and at exhibitions. You might say, "Wow, the world of NieR is expanding!" In the end, I will be happy if you decide to place a pre-order.
T : Characters from games that I've worked on rarely become figures or dolls, so I am very happy to see them and satisfied with their quality. I know that these dolls might not be the easiest to purchase for everyone. From a developer's point of view, they are extremely well made, and I can guarantee you that for sure.
M : Just as everyone said, you might feel self-conscious to start a new hobby with dolls. However, I truly believe that DD 2B and 9S will be worth it for you to start. As I mentioned before, they will change your life. You will be able to have time with them as DD. So, if you are interested in them, why not start a new hobby with them.
―― Thank you very much for taking time out of your busy schedule to speak with us.